I don't know about you, but my children LOVE to make paper airplanes.  It is quick and easy to entertain them by making a paper airplane.  After making a paper airplane for each one of them, they are usually enthralled with them for like fifteen minutes, flying them everywhere inside the house.  Then, they usually have a competition for another good fifteen minutes, to see which paper airplane can fly the furthest.  My husband makes the best paper airplanes.  I generally used to make the worst.  The kids got used to their dad's awesome flying planes.  So, one day when he left for work and I was left doing paper airplane duty, we had a real problem on our hands.  The kids were sad, I was frustrated.  How could I be so pathetic at making paper airplanes?  So, when daddy came home, I asked him for a tutorial.  He showed all of us how to make them – so, now at least even my oldest (age 9), does a pretty decent job at it.  What I discovered when I made the best airplane is that not only is it the best paper airplane because it flies the longest and the fastest, but it is the best paper airplane because YOU CAN MAKE IT LOOK LIKE THE LETTER A!  You can USE IT TO TEACH THE LETTER A!  Holy Cow AMAZING!  (Can you sense my excitement?)  This is a seriously cool discovery that has implications for school children all around the country! Okay, maybe I am being a little over dramatic…(no, I really don't think so.  This is an amazing paper airplane!)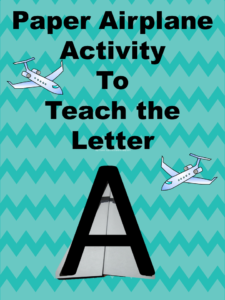 So, here is what you do…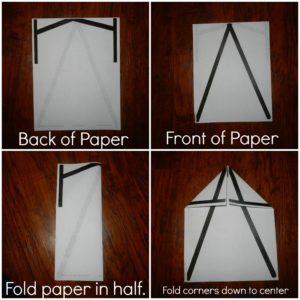 Here is a link for the worksheet you need to make your paper airplane.  Put the two pages back to back.    Look at the pictures above of the front of the paper and the back of the paper.  With the front of paper looking at you/facing you, fold the paper in half and fold the corners down to the center (as shown above).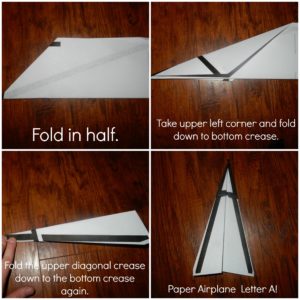 With the corners folded down, fold the paper in half again.  Then, take the diagonal corner and fold it down to the half page crease.   (Do on the other side of the airplane as well).  Then, do the same thing again – take the diagonal and fold it toward the half page crease again.  (Do on the other side of the airplane as well).  Then you are done and you have your letter A!  
Then you get to reinforce to your little one that you have a paper airplane that makes the capital letter A!  
Then, as you fly your letter A, have fun trying to land them on the paper airplane landing strips!  You can have your child make the noise of an airplane, which, of course is "aaaaa"  (Both the short and long A sound!).   
If you are looking for other quick and easy ways to keep your little one occupied while stuck inside this winter, here are a few other ideas that I found:
paper airplane landing strips

Coloring Rocks with Permanent Markers
Number Cereal Sensory Bin
Car Track with Painters Tape
Simple Rice Sensory Bin
How to make Cardboard Cookies
Squiggle Drawings
If you like this post, you should visit:
Letter A Crafts
Letter A Craft: Alligator Paper Plate
Chomping Clothespin Alligator Craft
Teaching the Short Aa Letter Sound
Fun Phonics -Letter A worksheets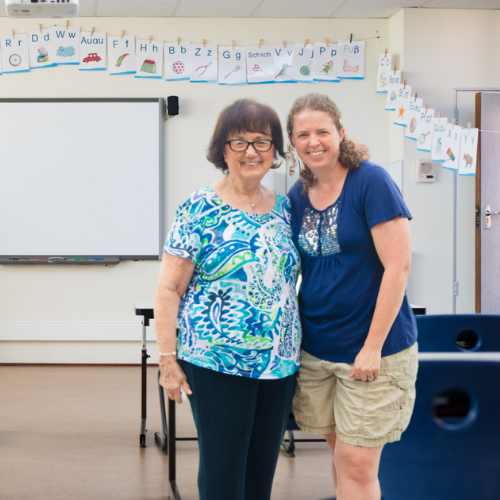 Madreen Karle is a master first grade reading teacher with over 30 years of classroom experience. She taught reading in a special needs and English as a Second Language classroom. After retiring she wrote a reading program to help others learn how to teach reading. She is a trusted educator and author of 5 books to help teach children to read and write. In addition to her books, she is a mentor for 3 websites that give reading teacher tips (Mrs. Karle's Sight and Sound Reading, Mrs. Karle's Reading Patch, and Mrs. Karle's Handwriting Patch). Through her teaching she learned that confidence was the key to learning to read. A child who is not confident at reading does not like to read and struggles to read. Mrs. Karle created "sunshine moments" to help teach children how to grow their confidence and learn to read.
Meeghan Karle Mousaw (Madreen's daughter) has her Master's in Special Education. She has 8 years experience teaching children to read online. In addition, she developed a curriculum to teach children handwriting called The Handwriting Patch. With the Handwriting Patch learning is fun because children learn to draw and learn handwriting at the same time. In 2019 The Handwriting Patch curriculum became an amazon best seller the first year it was released, helping thousands of kids learn handwriting with a unique, fun method. She is mom to 6 kids, each with differently learning abilities and struggles.
The Reading Patch was established by the creators of Mrs. Karle's Sight and Sound Reading. Together they have been featured on the NBC media outlets and Parents Magazine online. Over the last 8 years in their online platform, Madreen and Meeghan have worked tirelessly with teachers, homeschoolers and parents looking to help children learn to read to become a trusted authority in teaching children to read and advocating early literacy skills. They often partner with other educational experts to deliver the most current information to the Reading Patch community.