Craft to teach short o sound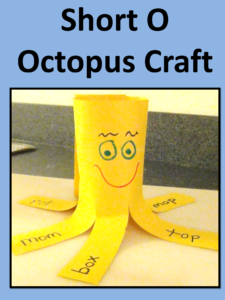 What better way to teach the short o sound than with an octopus craft!  This octopus craft is super simple, and fun to make….and it can be modified for different ages/stages/abilities/lessons.  I personally like teaching the short o sound with the octopus  because, as you know, octopus is a short o sound.  Making an octopus with legs that have short o words on them helps reinforce the short o sound.  It is a tactile way to help reinforce learning!  To create your short o octopus craft, you want to…
1)  Take a piece of construction paper and put a smile on it.
2)  Roll the construction paper and tape or glue together the ends to form a tube.
3) Cut the construction paper from the bottom to form eight octopus legs.
4)  Curl the cut pieces to form octopus legs.
4)  Write short o words on each leg.  Have the students practice reading, writing, and spelling the short o words.  The words I wrote on my octopus were:  top, mop, mom, box, pot, stop, flop, drop.
To modify this activity, you could…
Make the octopus yourself and have your student read the words.
You could have the student write the words to practice their spelling.
You could label the legs 1-8 to help reinforce math.
You could make the octopus have different faces and teach expression and social interaction.
You can have an older student practice their spelling words or the foreign language words by writing on the octopus legs.
Have fun making your craft to teach the short o sound!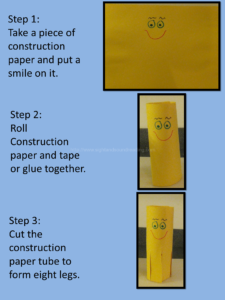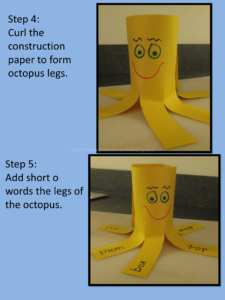 Another activity to go along with this is to read the book Hop on Pop
. Make sure you emphasize the short o sounds!
If you liked this post, you will also like:
Best Paper Airplane to teach the letter A
President's Day Activities for Kindergarten
How to Encourage Reading
Preschool Craft for Kids
Kindergarten Teaching Ideas