If you know me, I love to play games.  Today we have a fun Fall Roll and Write game!  Today's Fall Roll and Write is for sight words, but you could change it and play to write the letters, word families, numbers, name, etc!  I am going to include this Roll and Write template/dice in my growing sight word bundle worksheet pack!  Anyway, before we begin, I like to recommend another activity that would be fun to do along side this activity.  So, today I recommend Sight Word Swat…because who does not love swatting at flies that have sight words on them?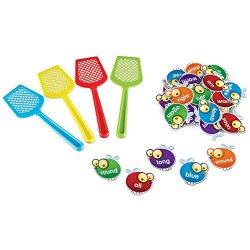 Learning Resources Sight Word Swat Game, 114 Pieces
Fall Roll and Write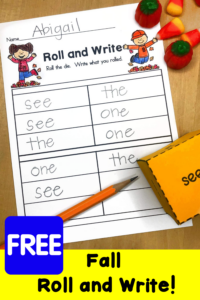 So today we have a fun Fall Roll and Write the Sight Word game.  The words we will write are "see, the, one"  You can even have the students use different colored pencils, crayons or makers when they write (to make things more fun and colorful).  They could color the dice and then when they roll the color and sight word, they can write with that color.  Boom. Fun.  (Boom.  Educational fun!).
Anyway, to get your free Fall Roll and Write, enter your name/email into the form below. You will be added to our mailing list where you will find out about more fun things (like this activity).  If you have any issues getting your freebie, please email me at [email protected]
How to Grow a Confident Reader
Fall Roll and Write
1. Enter you email on this form to get your free download
2. Get tips to help you grow a confident new or struggling reader
When you join Mrs. Karle's Sight and Sound Reading
you will learn how to break free from patching together reading lessons
and learn how to grow a confident reader.
Get the Fall worksheet Bundle!   (JUST $1!)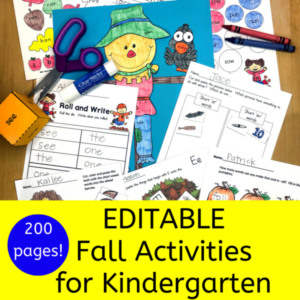 If you liked this post, you will also like:
Letter T Games
Fall Sight Word Worksheet
Printable Fall Coloring Pages