Kids Fourth of July Crafts
So, I wanted to compile a list of Kids Fourth of July Crafts that are easy and fun because I want to do a few with my kids.  Fortunately I found a few great Kids Fourth of July crafts that I think you will really enjoy!  I have done a few of them, and, I know a few of them my kids will really love.  This year I am also ordering these fun "Color/Make your own patriotic pinwheels
" to do with them too.   This will make for a a fun easy craft!   So, without too much waiting, let me show you some great easy and fun Kids Fourth of July Crafts!|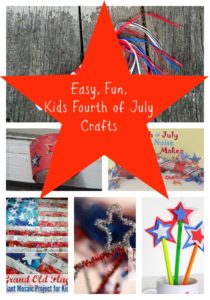 Kids Fourth of July Crafts
This first one is my favorite and I definitely plan on making it… it just looks like a lot of fun.  I know the kids will love it, it is super simple, and it looks great too!  Giant Mosaic Project for Kids
The next one is a cute cardboard tube bracelet…also super simple.  My girls will love them..and the boys will pretend they are super-hero bands!
This cute and fun patriotic duck tape parade stick looks simple and fun… Another one I know my kids will love to do!
Who doesn't need a fun pencil topper?  Sometimes you just need something to make you smile during the day…and right now, these pencil toppers are doing just that.  🙂
Something that is really annoying and makes lots of noise?  Yes please!  Check out his noise maker…sure to be a kid-pleaser.
I know my kids will have fun making these DIY Liberty Crowns.  The add a festive flare and just make life fun.  I definitely will make one for myself.  It will make me feel like I am queen for the day!
We already made these patriotic discovery bottles!  We kept our water clear, added glitter to it, and then also some sticker stars to the bottle.  Simple, fun, and then afterwards, mesmerizing to shake and watch.  It is my new form of stress relief.
So, there you have it…  easy, fun, kids fourth of July Crafts.
If you liked this post, you will also like: