Here we come to the letter W. It is similar with the shape, the letter W has the "thick" or double letter V sounds. The letter W also makes some diphthongs, such as aw and ow. Reading the letter W book list can familiarize kids with the letter W sounds.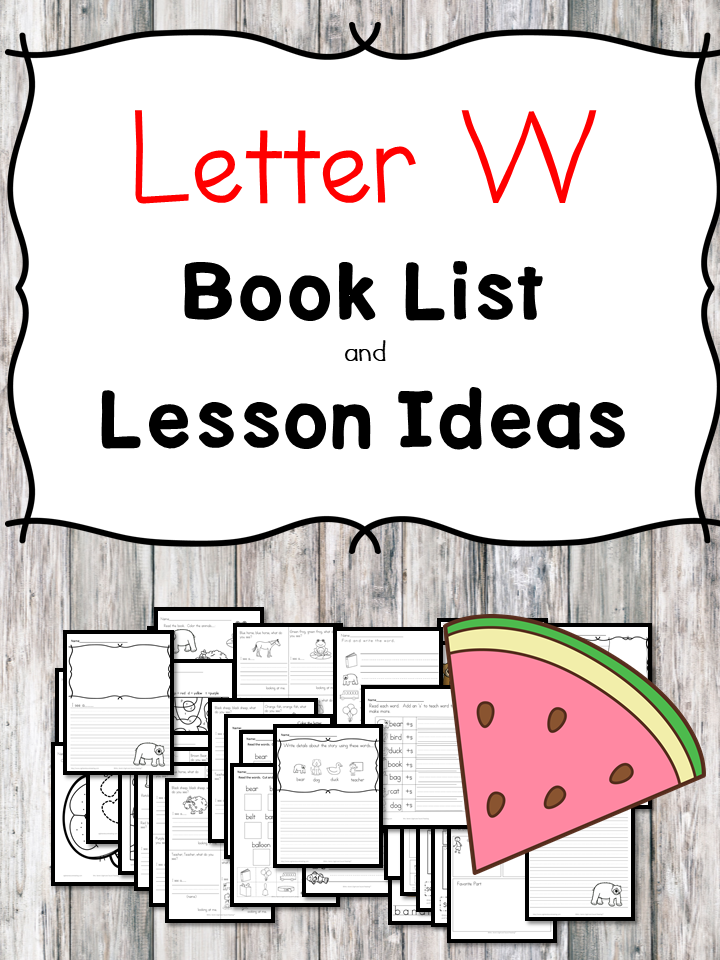 Letter W Book List
Rosie the hen leaves the chicken coop and sets out for a little walk. Right behind her is the fox, slyly trying to catch up with her. Rosie's walk is quiet, uneventful and eventually leads her back to the coop, blissfully unaware of the fox's travails as he tries — unsuccessfully — to navigate the obstacle course that Rosie has led him through.Do the Rosie's Walk activities (included) This is a great book to help teach prepositions. You can act out kinesthetically to show when you are in, out, on, below, etc… Play Simon Says at their desks… Simon says go under… next to… in front of… etc.
This is the diary . of a worm. This worm lives with his parents, plays with his friends, and even goes to school. But unlike you or me, he never has to take a bath, he gets to eat his homework, and because he doesn't have legs, he just can't do the hokey pokey – no matter how hard he tries. You can teach the children what a diary is and then you can either have the students write a diary for themselves for a few days, or, create a diary of a worm for a few days (Diary of a Worm activities included)
I went walking. What did you see? I saw a black cat looking at me. These catchy stanzas frolic through the Australian author Sue Williams's simple, funny read-aloud picture book that tracks a crazy-haired boy's stroll through the countryside. The boy sees a black cat, then a brown horse, then a red cow, and so on, and before he knows it, he's being trailed by the entire menagerie! The Australian illustrator Julie Vivas brings the parade to life in lovely, lively watercolors—when the pink pig looks at the boy, for example, the boy sprays off his muddy body with a hose. This is a cute book, very similar to "Brown Bear, Brown Bear"… you cave even sing it to "Are you sleeping, Are you sleeping, Brother John". Do the I went Walking Activities (included)
Uh-oh. Mrs. Wishy-Washy is at it again. Rubbing and scrubbing all the animals on the farm. But this time they aren't standing for it. Duck, Cow, and Pig are leaving mean old Mrs. Wishy-Washy for good! They run away to the big city. But they get lost, wander into a restaurant, and even stumble into a hardware store and get covered in paint! Where is Mrs. Wishy-Washy when they need her? Maybe her farm isn't so bad after all . . .
Wombat asks Weasel and Woodchuck if they want to wander the world with her, but they are overwhelmed with worries. What if they walk into a swarm of waiting wasps? What if the weather worsens? What if they're walloped by warthogs? What then…?
If you liked this post, you will also like:
Beginning Sounds Letter W worksheets