Motivating your reluctant reader: A penny a page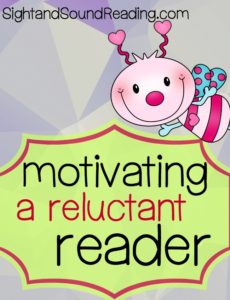 Many times I am asked the question:  How to encourage reading.  Here are a few ways I have found helpful…
You can create a treasure box and reward your reader for time spent reading.
You can let your student choose his/her own books.
You can create a cozy reading nook.
You can introduce the student to books on tape, or the ipad.
You can give them comics or magazines to read.
You can create a book club.
Mrs. Karle has been known to motivate little readers by paying a penny a page.  She currently encourages my little readers (her grandchildren) by paying a penny a page.  For each library book they read, they need to count the pages and record it in their little reading notebook.  When they see her, she always asks them if they read any books, and she pays them a penny a page for their efforts.  She asks them what they read, and, if she knows the book, she asks them questions about the book.
A not so distant time ago, my brother (Mrs. Karle's son), was not very motivated to read.  I believe he was 12 years old, and he had other things he wanted to do for the summer.  He really wanted a bike.  Well…  Mrs. Karle offered him to pay him a penny a page so that he could earn the money to buy his bike.  She also told him she would match penny for penny his efforts…(so, she was really paying him two pennies/page).  Anyway, my brother got to work and read vigorously each day.  In time, my brother bought the bike with the money he had earned from reading all summer.  To this day he says he has never had to work so hard in his life!
Another fun thing Mrs. Karle liked to do on car trips was to pay her children a penny a mile for quiet time – either reading or sleeping.   This money would become spending money when we arrived at our final destination. So…  next time you are on a car trip – offer a penny a page to read and a penny a mile to read – and you are sure to have a peaceful car ride at least for a little bit.  We use this trick with my little ones and it is always a big hit.
If you liked this post, you will also like:
How to encourage reading
How to help a struggling reader
Preschool Behavior Mangement:  How I helped my son with anger and frustration