"My" Sight Word Practice Worksheet – Free and easy download!
When teaching a child to read, it is essential that you teach both sight words and phonics.    Sight Words are especially important because they are found so frequently I materials that little people read.  Today I have a My sight word practice worksheet download for you.  This is a sample page of our larger sight word packet that contains all of the dolch sight words.
Sight words are (usually) words that are difficult to sound out.  Frequently words that children read can contain up to 80% of sight word text!  Because children have to read sight words so frequently, it is essential to make sure that children can read these words fluently (accurately and quickly).  When teaching sight words, though, you don't want to just teach them using flash cards.  Children need to read sight words IN CONTEXT.   Sight words are more easily remembered and understood when you read them in the context of a sentence.
In addition,  it it great to practice writing sight words in the context of a sentence (or, cutting and pasting sight words into a sentence).  The more practice, the easier reading becomes!   If you differentiate the sight word activities, students will continue to have fun learning.   If you are looking for a fun game to play while learning sight words, consider Zingo!  It is just like Bingo, except with sight words.  My children love to play it!  I love that you can get it for different levels!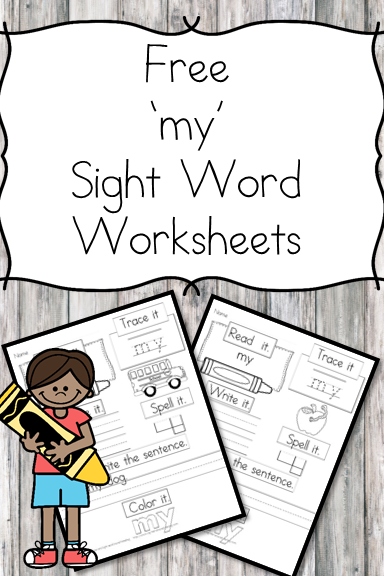 The "My" Sight word practice worksheet has a few activities to help students read and write the word fluently.  On the worksheet, students are asked to read, trace, write, spell, color and write a sentence using the sight word.  To get your free sight word worksheet, enter in your email into the form below.  The worksheet will be automatically emailed to you. If you have any trouble, please email me at [email protected]
1. Enter you email on this form to get your free download
2. Get tips to help you grow a confident new or struggling reader
When you join Mrs. Karle's Sight and Sound Reading
you will learn how to break free from patching together reading lessons
and learn how to grow a confident reader.
How to Grow a Confident Reader
Free Sight Word Worksheet Pack!
In addition, we offer some really great sight word mini fluency books. Here is some information on our two favorite sight word products:
This product is also on TPT:
If you liked this post, you will also like: