Today I have an activity for the phonics vowel sounds.  We are teaching the phonics vowel sounds for the short letter e!!  Hooray!  My last post I explained teaching vowel sounds.  Today, I have a few fun activities and a book to help teach the short letter e phonics vowel sound.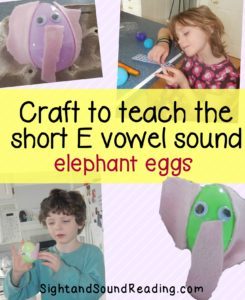 The first thing I would do when teaching the short letter e is to read the book Elmer the Elephant
.
Elmer is such a cute little book about an elephant that looks different from the others.  He tries to look like the others, but in doing so, realizes he likes to stand out better.  The other elephants find a clever way to support his differences.  Here is a video of someone reading the Elmer the Elephant book.
Before teaching, I would say that we are listening for the short vowel e sound.  The e says 'eh"……  and then, I would ask what sound an elephant makes…the elephant says "ehhhhh"  (you can move your arm like the trunk of an elephant. )
Then, after I finished reading  Elmer the Elephant, I would then make elephants out of eggs (emphasize the short e phonics vowel sounds).  I did this with my children and it was a lot of fun.  After we made our elephants, we went thought of names for the elephants -they had to start with the short or long e phonics vowel sounds.  We named our elephants Ellen, Elanore, Ethan, Eva, Elaa, Edward, Eden and Emily.
Then, after making our elephants, we put them to bed….(bed has a short e phonics vowel sound in it too!)
To make, all we did was add some sticky googly eyes to the eggs.  Then we cut out elephant ears and a trunk from felt and glued it to the egg.  The children had a hard time being patient waiting for the glue to try.  It did work, eventually, but, you have to be patient to wait for it to dry.  I would have liked to have tried double sided tape to see if that worked better.  I am guessing it might be a better choice.  The kids really LOVED the project, though, and the elephants were adorable.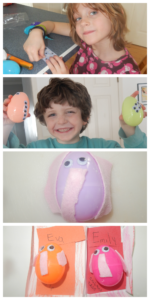 If you liked this post, you will also like:
Foam Feather Fairies:  Teaching the f sound
Craft to teach the short 0 sound
Short I Inchworm activity
Preschool Craft for Kids
Kindergarten Teaching Ideas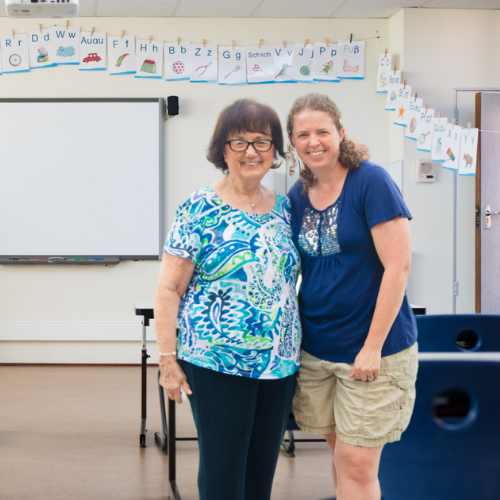 Madreen Karle is a master first grade reading teacher with over 30 years of classroom experience. She taught reading in a special needs and English as a Second Language classroom. After retiring she wrote a reading program to help others learn how to teach reading. She is a trusted educator and author of 5 books to help teach children to read and write. In addition to her books, she is a mentor for 3 websites that give reading teacher tips (Mrs. Karle's Sight and Sound Reading, Mrs. Karle's Reading Patch, and Mrs. Karle's Handwriting Patch). Through her teaching she learned that confidence was the key to learning to read. A child who is not confident at reading does not like to read and struggles to read. Mrs. Karle created "sunshine moments" to help teach children how to grow their confidence and learn to read.
Meeghan Karle Mousaw (Madreen's daughter) has her Master's in Special Education. She has 8 years experience teaching children to read online. In addition, she developed a curriculum to teach children handwriting called The Handwriting Patch. With the Handwriting Patch learning is fun because children learn to draw and learn handwriting at the same time. In 2019 The Handwriting Patch curriculum became an amazon best seller the first year it was released, helping thousands of kids learn handwriting with a unique, fun method. She is mom to 6 kids, each with differently learning abilities and struggles.
The Reading Patch was established by the creators of Mrs. Karle's Sight and Sound Reading. Together they have been featured on the NBC media outlets and Parents Magazine online. Over the last 8 years in their online platform, Madreen and Meeghan have worked tirelessly with teachers, homeschoolers and parents looking to help children learn to read to become a trusted authority in teaching children to read and advocating early literacy skills. They often partner with other educational experts to deliver the most current information to the Reading Patch community.