This post contains affiliate links.  The following post was written by Corinne Jacob from Alternate Tutelage.  
Reading is a fundamental skill that has to be learnt with repetitive practice. There are a few core skills that young children need to master as they begin to learn to read. The stronger the base, the easier it is to build more complex reading skills upon it.  Important skills that young children should know are phonemic awareness, vocabulary, sight words, phonics and letter recognition. Making the process fun and less of a chore makes it easier for kids to absorb what they learn. Online reading games can be coupled with other games to bring variety to the table.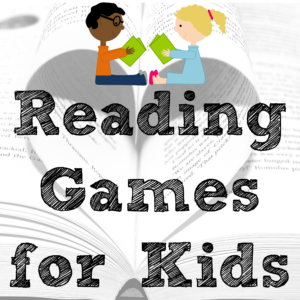 Reading Games for Kids
Children learning the alphabet can be taught to recognize the lower and upper case letters with a little game. Draw a square grid and write the alphabet in lower case in each box. On a Post It, write an upper case letter and stick it on a toy car. Ask kids to park the car in the box which has the corresponding lower case alphabet.
Kids can also listen and trace upper and lower case letters with the app Letter Lab.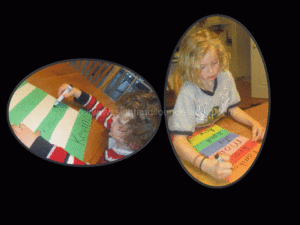 Sight words are high frequency words. To help kids recognize them, I write them on Post Its and arrange them on a flat surface. As I call out words, k
ids have to swat the correct word with a fly swatter.
The same can be reinforced with K-3 Sight Words, an app that lists the Dolch Sight Words.
Kids begin associating words with objects long before they begin to learn words in school.
I put a few familiar objects in a basket and ask the kids to feel the object without looking at it, and to name it.
Sometimes they need helpful prompts like what the object is used for before they can come up with the name of the object.
My Word Wall
is a great tool that gives kids ample opportunity to see, listen, write and say words that include both sight words and
word family words
.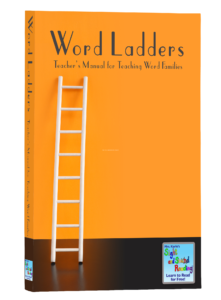 `

By the time kids get to first grade, they have learned to hold books, make sense of words and sentences, and write simple words.
You can send them on a word hunt by writing a sight word and asking them to find it in the book.
Interactive book apps like
Bob Books #1 – Reading Magic
makes reading fun for kids with its animations. It is an excellent way to get kids started on
phonics-based reading
.
Rhymes are another way to help kids become better readers as they use common sounds. Also, kids enjoy playing with rhyming words.
I write a mix of words that rhyme on Popsicle sticks and ask kids to sort out the words with similar sounds.
In the app
Dora ABCs Vol 2: Rhyming Words
, kids have to match
rhyming words
to get ahead in the game.While the above reading games get into the details and technicalities of reading, the reading habit can be cultivated by reading to children, getting them to look for information on road signs or advertisements, and by encouraging them to read books.
About the Author

:
Corinne Jacob is a wannabe writer who is convinced that kids learn best when they're having fun. She is constantly on the lookout for new and exciting ways to make learning an enjoyable experience. Corinne loves all things that scream out un-schooling, alternative education and holistic learning.  You can find Corinne at her blog, Alternate Tutelage.  
If you liked this, you may also like:
Reading Readiness Games
Compound Word Activities
Sight Word Football Game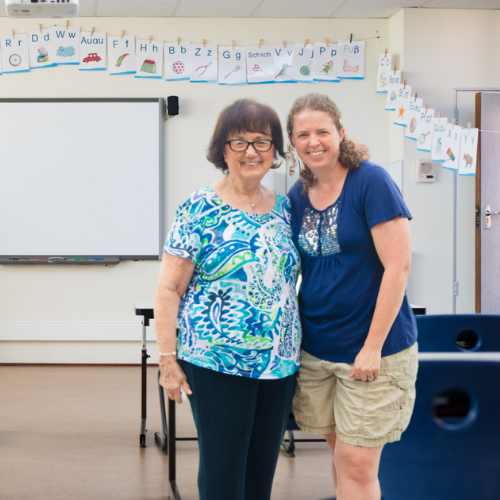 Madreen Karle is a master first grade reading teacher with over 30 years of classroom experience. She taught reading in a special needs and English as a Second Language classroom. After retiring she wrote a reading program to help others learn how to teach reading. She is a trusted educator and author of 5 books to help teach children to read and write. In addition to her books, she is a mentor for 3 websites that give reading teacher tips (Mrs. Karle's Sight and Sound Reading, Mrs. Karle's Reading Patch, and Mrs. Karle's Handwriting Patch). Through her teaching she learned that confidence was the key to learning to read. A child who is not confident at reading does not like to read and struggles to read. Mrs. Karle created "sunshine moments" to help teach children how to grow their confidence and learn to read.
Meeghan Karle Mousaw (Madreen's daughter) has her Master's in Special Education. She has 8 years experience teaching children to read online. In addition, she developed a curriculum to teach children handwriting called The Handwriting Patch. With the Handwriting Patch learning is fun because children learn to draw and learn handwriting at the same time. In 2019 The Handwriting Patch curriculum became an amazon best seller the first year it was released, helping thousands of kids learn handwriting with a unique, fun method. She is mom to 6 kids, each with differently learning abilities and struggles.
The Reading Patch was established by the creators of Mrs. Karle's Sight and Sound Reading. Together they have been featured on the NBC media outlets and Parents Magazine online. Over the last 8 years in their online platform, Madreen and Meeghan have worked tirelessly with teachers, homeschoolers and parents looking to help children learn to read to become a trusted authority in teaching children to read and advocating early literacy skills. They often partner with other educational experts to deliver the most current information to the Reading Patch community.