Gratitude Worksheets for Kids
I thought I would take a minute or two to talk about how I teach gratitude to my children.   We have an easy activity that we do to help the children reflect on what they have and how they can use their gifts and talents to serve others.  The activity is super simple and can easily be modified for an early reader.. (or modified to be more difficult for older children).   So, like many other activities here, I made a few Gratitude Worksheets for Kids to share with you.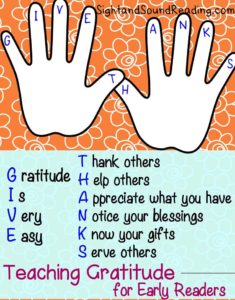 I do a couple of things to teach gratitude.  First, I write out the letters "G-I-V-E -T-H-A-N-K-S" and I write the following:
Gratitude
Is
Very
Easy
Thank others
Help others
Appreciate what you have
Notice your blessings
Know your gifts
Serve Others
Then, have the children think about what they have and thank others for what they have.  You can write a thank you note, or call someone.  Have them imagine life without that thing..you could do an activity and remove that item from their life.  Show them what it means to appreciate. Another way to teach appreciation is to do service.  Go to a soup kitchen or help make blessing bags for someone and give out the blessing bags.  Show them how fortunate they are for what they have.  (And show them how they can help others with what they have).  Point out small blessings. The smile of a friend, or point out when someone helped you.   Help the children know what they are good at and how they can use those talents to serve others.  Do they like to sing or play piano?  See if they can perform at a nursing home.  Do they like to play cards?  They could play at a nursing home too!
To teach gratitude, I take a piece of paper and I then write at the top:  I like (or I have), I am good at, I can help others by.  These words are simple to read and simple to understand.  (I created free Gratitude Worksheets for Kids below)  I then have the children draw pictures of what they like, what they are good at and use their likes and talents to determine how they can serve others.  Here are the pictures that my children drew: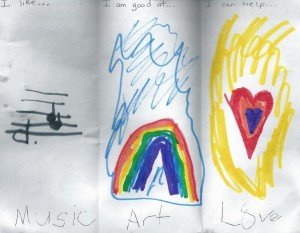 My second grader likes music, is good at art and can help by loving.  I asked her what it meant to help by loving and she said that she could help cuddle her baby sister.  She is right…  helping to hold and cuddle her baby sister does help me quite a bit!  It frees up my hands to help others.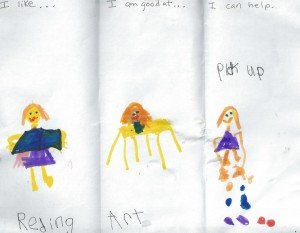 My kindergarten student likes to read, is good at art and she can help by picking up.  She is right too!  She is amazing at helping around the house.  I was pleased by both of their drawings. They did a good job reflecting and what their talents are and how they can help others with the gifts that they have.
What do you like to do?  What are your talents and how can you serve others?  Whether you are a beginning reader, or a fluent reader, it is good to reflect on these things and try to focus our attention on how to make the world a better place.
Anyway, to get your free Gratitude Worksheets for kids, fill out the form below and they will be sent to you.  If you have any trouble with downloading the Gratitude worksheets for kids, send me an email to [email protected] and let me know you are having trouble with the Gratitude worksheets for kids.  (We have a lot of free worksheets so I need to know how to help you).  By filling out the form you will be added to our email list where you will find out about other fun things like more free worksheets.

Gratitude Worksheets for Kids
When you join Mrs. Karle's Sight and Sound Reading
you will learn how to break free from patching together reading lessons
and learn how to grow a confident reader.
How to Grow a Confident Reader
1. Enter you email on this form to get your free download
2. Get tips to help you grow a confident new or struggling reader
If you liked this post, you will also like: