I am so excited to bring you some ideas on how to teach a community helper unit!  Today I have a community helper game for you!  I also have some other fun ideas to help teach about community helpers.  Pleae feel free to leave me a comment with other ideas!  Before we get started with our community helper game, here are a few fun books to read during community helper week!
Clothesline Clues to Jobs People Do
Helpers in My Community (Bobbie Kalman's Leveled Readers: My World: G)
Let's Meet a Police Officer (Cloverleaf Books – Community Helpers)
When I Grow Up (Little Critter) (Look-Look)
Community Helper Game and other Lesson Ideas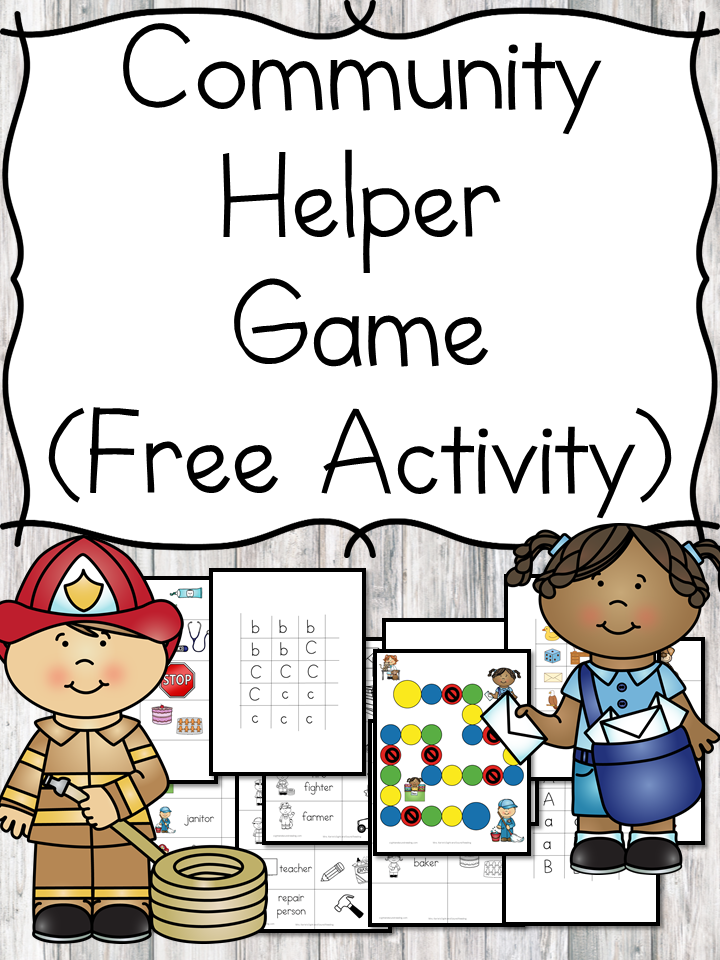 So, I did a little brainstorming to come up with a few ideas for you to help with your community helper unit.  It is great to help children learn what  different community helpers do.  It is great for them not only to see that there are so many people that help us each day, but also that some day they can become a community helper.
 Play dress-up!  Kids love to dress up and do pretend play. . Download some free pretend play worksheets and have fun pretending to be a doctor, vet, police officer, teacher and more!
Take a field trip!   – Visit a fire department, police department, library…
Bring the Field trip to you!  – Ask for parent volunteers or see if you can get a fire person, police officer, librarian, doctor, dentist, vet, repair person to visit you.  Have the students ask questions.
Write letters to community helpers – Write thank you notes to community helpers or write them letters to ask them questions.  If they come visit your classroom (or if you visit them), this is also another great reason to write a follow-up note or thank you too!
Pretend play a restaurant! – During snack time or lunch.  Make menus and have students order their food, or have them play waiter/waitress.
Do a fire safety unit in October for fire prevention month.  Bring in a fire fighter or visit a fire house.  Practice a fire drill, and practice stop/drop/roll.
Do a dental health unit in February for dental hygiene month
Do a postal worker unit in February or Christmas when many people mail letters.  Make cards or have people send the children cards
 Survey the class on what they want to be when they grow up.  Make a chart
Make a class book…  When I am big, I will be a ….  You can take pictures with the kids in a hat or a badge.
Play a dress-up relay race.  Have children race to put on community helper costumes, run accross the room, tag their teammate, repeat.
Anyway, today I have a fun printable community helper game for you!  Students try to match the community helper to something the community helper uses/needs…For instance, match the vet with the dog.  You can also play this game using beginning sounds, word families, sight words, letters, math facts, etc.  I give you directions on how to play this game to help reinforce learning concepts!  This game is part of our larger Community Helper Lesson Activity Pack.
How to Grow a Confident Reader
Community Helper Game
1. Enter you email on this form to get your free download
2. Get tips to help you grow a confident new or struggling reader
When you join Mrs. Karle's Sight and Sound Reading
you will learn how to break free from patching together reading lessons
and learn how to grow a confident reader.
If you liked this post, you will also like…
Community Helpers Roll and Cover Game | Simple Fun for Kids
Teaching about Community Helpers to Kids – Printable 3-Part Cards | The Natural Homeschool
Community Helper Time Puzzles | Living Life and Learning
Community Helpers Prewriting Worksheet | Artsy Momma
It's Not easy being a bunny Activities
Not a Box Activities and Lesson Ideas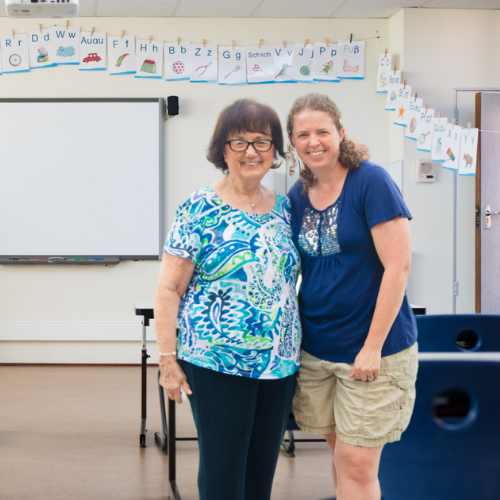 Madreen Karle is a master first grade reading teacher with over 30 years of classroom experience. She taught reading in a special needs and English as a Second Language classroom. After retiring she wrote a reading program to help others learn how to teach reading. She is a trusted educator and author of 5 books to help teach children to read and write. In addition to her books, she is a mentor for 3 websites that give reading teacher tips (Mrs. Karle's Sight and Sound Reading, Mrs. Karle's Reading Patch, and Mrs. Karle's Handwriting Patch). Through her teaching she learned that confidence was the key to learning to read. A child who is not confident at reading does not like to read and struggles to read. Mrs. Karle created "sunshine moments" to help teach children how to grow their confidence and learn to read.
Meeghan Karle Mousaw (Madreen's daughter) has her Master's in Special Education. She has 8 years experience teaching children to read online. In addition, she developed a curriculum to teach children handwriting called The Handwriting Patch. With the Handwriting Patch learning is fun because children learn to draw and learn handwriting at the same time. In 2019 The Handwriting Patch curriculum became an amazon best seller the first year it was released, helping thousands of kids learn handwriting with a unique, fun method. She is mom to 6 kids, each with differently learning abilities and struggles.
The Reading Patch was established by the creators of Mrs. Karle's Sight and Sound Reading. Together they have been featured on the NBC media outlets and Parents Magazine online. Over the last 8 years in their online platform, Madreen and Meeghan have worked tirelessly with teachers, homeschoolers and parents looking to help children learn to read to become a trusted authority in teaching children to read and advocating early literacy skills. They often partner with other educational experts to deliver the most current information to the Reading Patch community.