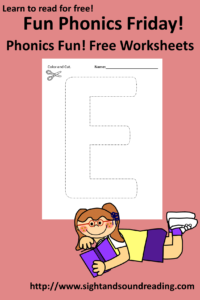 It is free phonics Friday again!  Today's worksheet highlights the upper case letter E.  Students get to practice their cutting skills  – they get to color and cut out the letter E.  We also have free videos that teach the short e sound and free videos to teach the long e sound.    Please fill out the form below to get your free phonics worksheet.  Learn to read for free!  
Send me the free download now!
Check your email for your free download! Enjoy!
If you like this post, you will like:
Letter E Craft: Paper Back Elephant Puppet
Free Phonics Friday! The Letter E
Beginning Sounds Letter E Worksheets