Free Phonics Friday! The Letter E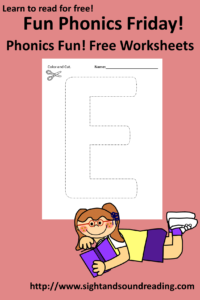 It is free phonics Friday again!  Today's worksheet highlights the upper case letter E.  Students get to practice their cutting skills  – they get to color and cut out the letter E.  We also have free videos that teach the short e sound and free videos to teach the long e sound.    Please fill out the form below to get your free phonics worksheet.  Learn to read for free!  
How to Grow a Confident Reader
1. Enter you email on this form to get your free download
2. Get tips to help you grow a confident new or struggling reader
Letter E Cut-out
When you join Mrs. Karle's Sight and Sound Reading
you will learn how to break free from patching together reading lessons
and learn how to grow a confident reader.
If you like this post, you will like:
Letter E Craft: Paper Back Elephant Puppet
Free Phonics Friday! The Letter E
Beginning Sounds Letter E Worksheets