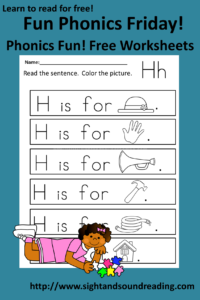 It is Friday again!  Today our free worksheet is brought to you by the letter Hh.  Today students get to read a simple sentence that begins with the letter Hh, and ends with a word that begins with h.  Students can also color the picture of the words that begin with Hh.  They are delicious and children love to make them and top their burger with multi-colored frosting! Please fill out the form below to sign up for our occasional email and to get your free phonics worksheet.
Send me the free download now!
Check your email for your free download! Enjoy!
If you like this book list, you can visit:
Letter H Craft: Hippo Egg Carton Craft
Free Phonic Friday: The Letter Hh