18 Free Beginning Sound N Worksheets -Easy Download!
Let's have fun together....  we are on to the Beginning Sound N worksheets!  I have some free printable Beginning Sounds Letter N worksheets. If you are looking for a good book to do to help teach the letter N, The best Nest, The Name Jar, and Ninja Cow Boy Bear will be great to represent the letter. The books I recommend below don't show a lot of letter N in the words, but they have beautiful message for children that they should not miss.
Beginning Sound BUNDLE!  
We have a large bundle of beginning sound worksheets that are all bundled together that we think you will love!  The large bundle of letter worksheets contains at least 20 worksheets for each letter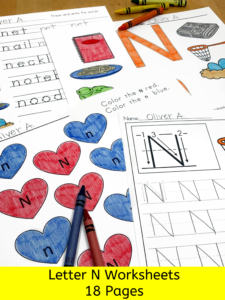 18 Free Beginning Sound Letter N Worksheets
Today I have a whole bunch of Beginning Sound N worksheets for you!  There are handwriting pages cut and paste activities and more.  To get your free Beginning Letter Sound Worksheets, enter in your email and they will be sent to you.  You will also be added to our mailing list where you will find out about more fun things, like freebies. If you have any trouble getting your worksheets, please email me at [email protected] and let me know you are having trouble with your N Beginning Letter Sound Worksheets.
When you join Mrs. Karle's Sight and Sound Reading
you will learn how to break free from patching together reading lessons
and learn how to grow a confident reader.
1. Enter you email on this form to get your free download
2. Get tips to help you grow a confident new or struggling reader
Free Letter N Worksheet Pack!
How to Grow a Confident Reader
In addition, we have more Letter N activities for you to enjoy!
More Letter N Activities to Enjoy
Our Favorite Learning Resources