Letter S is another very rich letter with numerous sounds it can build up. Let's look up some blends made with this letter: st like in still, most, and story; str like in strike; sp like in special and spell; sn like in snake and snore; sl like in slice and slow; sm like in smoke and smell; and sw like in swing and swim. The preschool and kindergarten levels might not be worried about those blends, but they will just enjoy the letter S sound as the beginning sound. Here are some popular books in a Letter S book list I would like to share for children to learn the letter S sound.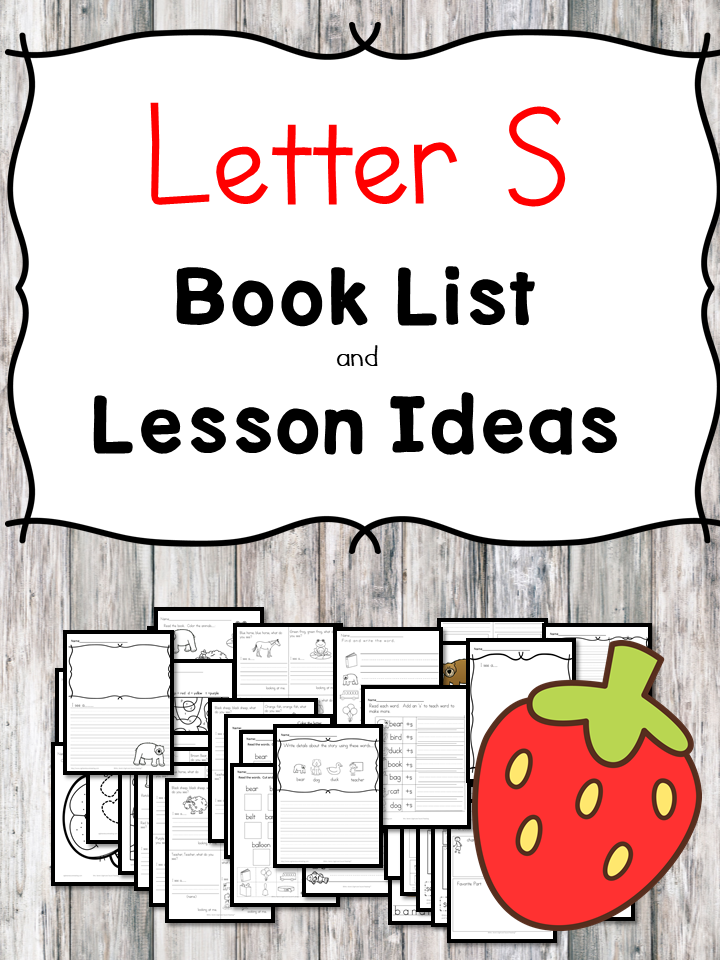 Letter S Book List
Dance a jig with a silly pig. Play leapfrog with a silly dog. And that's just the beginning of all the fun! Come along and join Silly Sally and her outrageous friends as they parade into town in a most unusual way. "Exploding with whimsy, humor, and zest. . . . Be prepared to read this one a thousand times!"–Booklist (starred review)
Scaredy Squirrel never leaves his nut tree. It's way too dangerous out there. He could encounter tarantulas, green Martians or killer bees. But in his tree, every day is the same and if danger comes along, he's well-prepared. Scaredy Squirrel's emergency kit includes antibacterial soap, Band-Aids and a parachute. Day after day he watches and waits, and waits and watches, until one day … his worst nightmare comes true! Scaredy suddenly finds himself out of his tree, where germs, poison ivy and sharks lurk. But as Scaredy Squirrel leaps into the unknown, he discovers something really uplifting ...This book, and the Eensy Weensy Spider book are great to talk about things we are afraid of and conquering out fears. There is a writing prompt for beating fears with the spider activity packet.
Don't let this lonely spider frighten you! She just wants to be a family pet—and she thinks she would make a better pet than the typical dog or cat. But every time this clever spider tries to impress her chosen family, she scares them instead, until the day she unwittingly enchants them. Aaaarrgghh! Spider! spins a lively tale about one creature's efforts to find her place. Spider Activities can be found here.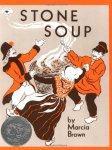 Stone Soup (Aladdin Picture Books)

Clever soldiers outwit greedy townspeople with the creation of a special soup in this cherished classic, a Caldecott Honor book.  Do the Stone Soup Activities (included)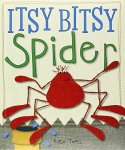 Itsy Bitsy Spider (Kate Toms Series)

Bestselling titles from Kate Toms are now available in a great paperback format. The sturdy, paper pages are easy for little hands to turn and large enough to read out in a group. Lively hand-stitched illustrations, together with gentle humor and charming rhymes will engage and amuse little ones and adults alike. Letter S spider activity (included) Create a spider out of construction paper and on the legs, have the students find pictures in magazines that start with the letter S.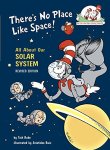 There's No Place Like Space: All About Our Solar System (Cat in the Hat's Learning Library)

Au revoir, Pluto! In this newly revised, bestselling backlist title, beginning readers and budding astronomers are launched on a wild trip to visit the now eight planets in our solar system (per the International Astronomical Union's 2006 decision to downgrade Pluto from a planet to a dwarf planet), along with the Cat in the Hat, Thing One, Thing Two, Dick, and Sally. It's a reading adventure that's out of this world! Do the Color by Letter/Sight word Space Activity (included)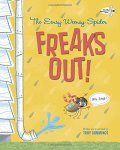 The Eensy Weensy Spider Freaks Out! (Big-Time!)

The Eensy Weensy Spider climbed up the waterspout . . . and everyone knows what happens next! By the time the sun comes out to dry up all the rain, the Eensy Weensy Spider has freaked out over her washout, big-time! "There's no way I'm climbing back up that gutter!" she says. Eensy has lost her climbing courage, but with the help of her best ladybug friend, Polly, she begins to take on bigger and bigger climbing challenges until she's rewarded with the most spectacular view of outer space that any bug has ever seen! Hilarious text and a retro, graphic art style take this popular nursery rhyme to new heights. There's also a fun size chart on the end pages for kids to track Eensy's progress as she tackles taller and taller objects. Spider or Snake Letter S Game/Sight Word game (included)
Would you like Free Letter S beginning sound worksheets to go along with your craft? Enter your name/email for free Letter S beginning sound worksheets to help you teach the letter S! If you have any trouble getting the freebie, please email me at [email protected]
1. Enter you email on this form to get your free download
2.  Get tips to help you grow a confident new or struggling reader
How to Grow a Confident Reader
Free Letter S Worksheet Pack!
When you join Mrs. Karle's Sight and Sound Reading
you will learn how to break free from patching together reading lessons
and learn how to grow a confident reader.
If you like this post, you might like:
The "Ss" Game -Teaching the letter Ss
Beginning Sounds Letter S worksheets