Reading a book is a way to learn about letters, sounds, words, sentences, and meanings. With the letter V book list, kids will be more familiar with those aspects of language. With the letter V, kids will meet the vet, the volcano, the viper, the vegetable, and some other both common and proper nouns.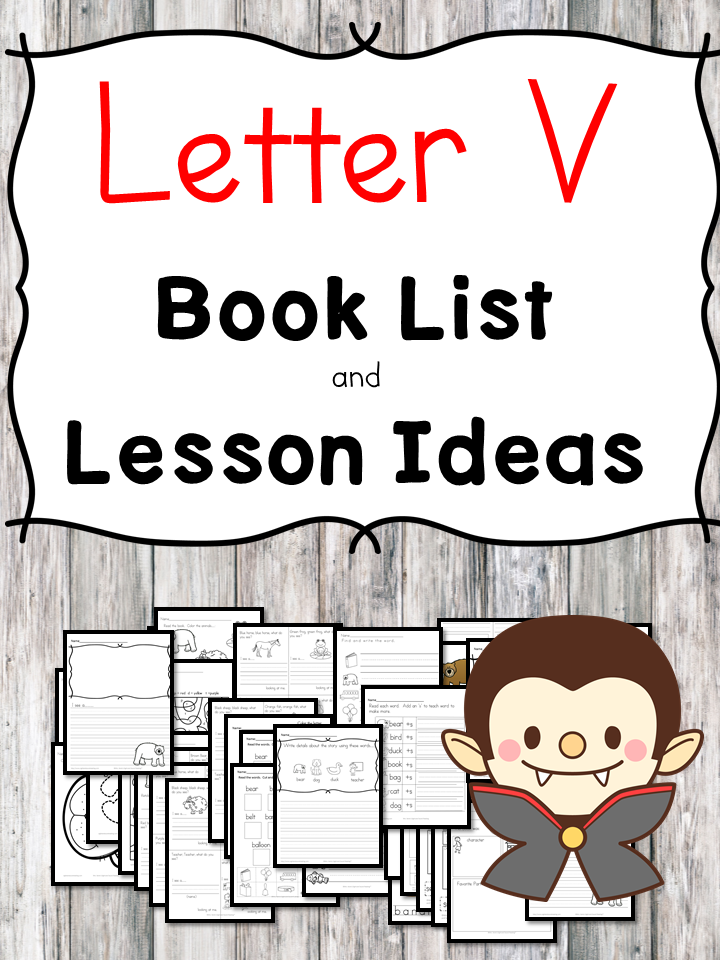 Letter V Book List
Bug! Rug! Mug! Hug! These dust bunnies love to rhyme. Well, except for Bob. Much to the other bunnies' frustration, Bob can never get the rhythm right. Then he saves everyone from a big, scary monster wielding—gasp!—a broom, and they all breathe a sigh of relief. But can Bob save them from the big, scary monster's next attack? Vrrrrrroooommm . . .Everything is all well until the dust bunnies are sucked up into the vacuum! Have the students pretend they are vacuums…vroom!
Louis thoughts are very important to him. In fact, his thoughts are so important to him that when he has something to say, his words begin to wiggle, and then they do the jiggle, then his tongue pushes all of his important words up against his teeth and he erupts, or interrupts others. His mouth is a volcano! My Mouth Is A Volcano takes an empathetic approach to the habit of interrupting and teaches children a witty technique to capture their rambunctious thoughts and words for expression at an appropriate time. Told from Louis' perspective, this story provides parents, teachers, and counselors with an entertaining way to teach children the value of respecting others by listening and waiting for their turn to speak.This is a good book to use and read for students who interrupt frequently.
The I Want to Be… series gives young children a realistic insight into the working day of adults. Easy-to-read captions and color photographs of women and men from different cultures help children understand what's involved in each occupation. Young readers learn to respect the importance of doing a job well and appreciate the contributions these workers make to our life and the world around us. These books are perfect for reading alone or in group story times. They are certain to spark questions and encourage dialogue and prompt children to learn more. Set up a vet clinic in your classroom, and/or have a vet come visit your class. You can purchase "medical masks" for the student to wear and have pretend-play printables for a vet… have some bandaids or wrap to help bandage up little stuffed animals. Vet Dramatic Plan worksheets included
The Viper (Dutton Easy Reader)
The Viper is based on an old tale Lisa Thiesing used to hear at summer camp. Peggy the Pig gets a weird phone call. "I am zee Viper!" the voice says. Poor Peggy! She is scared. Who – or what – is the Viper? Can you guess? Suspense builds. The answer is surprising and silly, just like this book.
At first a brand-new toy, now a threadbare and discarded nursery relic, the velveteen rabbit is saved from peril by a magic fairy who whisks him away to the idyllic world of Rabbitland. There, he becomes "Real," a cherished childhood companion who will be loved for eternity. Treasured for generations, this is a timeless tale about the magic of boundless love.
I Love to Eat Fruits and Vegetables
In this children book, you meet Jimmy, the little bunny, again. Jimmy likes to eat candy but doesn't even want to taste fruits and vegetables. He sneaks into the kitchen to try to find a bag with candies that was hidden inside the cupboard. What happens right after Jimmy climbs up to reach the bag of candy? This is the third book in the collection of short bedtime stories for kids, and it's written especially for those parents who struggle every mealtime to make their kids eat healthy food. You can taste test vegetables.
If you liked this post, you will also like:
Beginning Sounds Letter V worksheets