.Do you want to make a teddy bear?  If you follow me, you know I have several "Do you want to make a…." posts.  In my opinion they are great educational tools.  They are fun, they help with fine motor development.  The help with spacial reasoning and trying to figure out how to put things together.  My kids love to do these activities.
This activities goes great with a Teddy Bear Picnic theme!
Make a Teddy Bear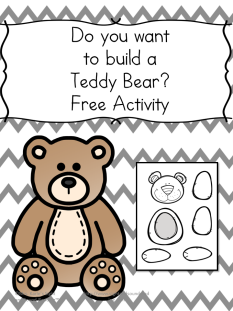 If you would like a Make a Teddy Bear Activity, enter your email into the form below. You will be added to our email list where you will find out about more fun things. There will information with your download about how to unsubscribe if you wish.  If you have any trouble with your download, please email me at [email protected]
Send me the free download now!
Check your email for your free download! Enjoy!
Want more ideas for a teddy bear picnic?
Teddy Bear Picnic Activities for Kindergarten
Invitations for a Teddy Bear Picnic
/Do you want to make a teddy bear?
Teddy Bear Picnic Coloring Pages
Teddy Bear Picnic Writing Prompts
Teddy Bear Picnic Party games
Teddy Bear Picnic Mask/Hat
Teddy Bear Picnic Colof-by-Letter/ Color by Sight Word Pages
Brown Bear Brown Bear Lesson
Teddy Bear Bulletin Board Ideas
Teddy Bear Picnic Bear Craft/Book