Well, I don't know that I can think of anything more confusing than words with 'ow' sound.  The words with 'ow' sound can makes two different sounds.  They can say 'ow' like 'wow' or the can say 'o' like 'grow'.  Talk about crazy and talk about confusing, and talk about hard to teach!  Mrs. Karle always says that letters are magic, and that phonics and making the letter sounds in magic.  This truly is magic -the words with 'ow' sound can make two different sounds.  What will they think of next?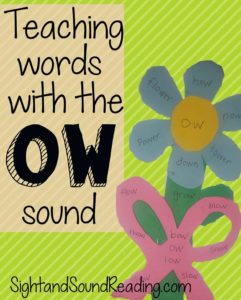 So, with that in mind, I have a fun activity to help teach the words with the 'ow' sound.  First I brainstormed all the words where the 'ow' says 'ow' as in 'wow'.   When Mrs. Karle taught these words she would 'hurt' herself and then say…'ow!'  Then she would put on a bandage with 'ow' written on it. So, the words with 'ow' on it…
how
now
brown
down
drown
town
grown
howl
crowd
crown
powder
power
flower
tower
gown
frown
owl
To teach these words, I made a flower.  Then, I put some of the words around the flower.  You could add a second layer of petals to add even more 'ow' words that say 'ow' as in 'flower'.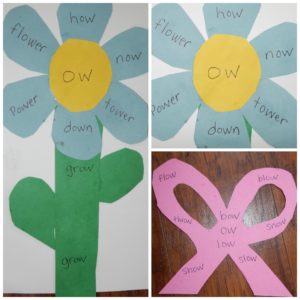 If I were teaching this in a class, I would stop there.  All week -for a week or so, I would focus on the words with 'ow' sound as in 'flower' and make sure the students really know that the 'ow' makes the 'ow' as in 'wow' sound.  I would read a book like Cow Takes a Bow
to further practice the ow sound.
Then, after a few weeks of practice, I would then add a bow to the flower.  The bow is a word with 'ow' sound that sounds like 'o' as in 'know'.  So, I would make a bow, and write on the flower the word 'grow', and as the flower 'grows', we ad a 'bow' and on the bow, we write words with 'ow' sound …
low
row
crow
slow
grow
flow
blow
grown
growth
bow
bowl
tow
snow
show
throw
crow
thrown
hollow
follow
fellow
shadow
window
willow
pillow
yellow
You could make it a yellow bow!  (I made mine pink).
If you liked this post, you will also like:
Preschool Craft for Kid