Fun Phonics Friday! (Free phonics worksheets!)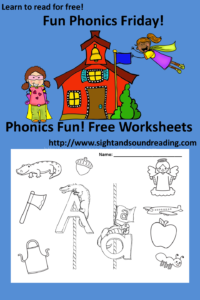 Well….It's FRIDAY!  Go ahead and celebrate!  I decided to start a new feature… Fun Phonics Friday!  Each Friday we will post something fun, and phonics related….and, of course, FREE!  So…for today, I have a worksheet that students can color, and say the names of things that begin with the letter Aa!  I am working on putting together an entire workbook of fun phonics activities – here is just one example of a worksheet.  When using this worksheet, make sure you say each word with your student and point out the long or short Aa sound found at the beginning of  each of the words.  Additionally, make sure you point out the three different ways that you may find an 'a' written/typed. (Mrs. Karle likes to always point out the 'funny looking a')  Many students who are just beginning to read have so much trouble knowing the different fonts.  This especially happens with the letters a, g, l, i…to name a few!  Mrs. Karle's alphabet explicitly teaches these concepts – and all of our phonics worksheets will too!   Lastly, you will notice that the capital A, or big A is on top of the lower case a.  Mrs. Karle insists when teaching the alphabet that children know the difference between upper and lower case letters from the very beginning.  Anyway….  we hope your little reader enjoys this free, fun, phonics Friday worksheet!  Please fill in the form below to sign up for an occasional email and to get your free worksheet to teach the letter Aa.
Letter A Color
How to Grow a Confident Reader
1. Enter you email on this form to get your free download
2. Get tips to help you grow a confident new or struggling reader
When you join Mrs. Karle's Sight and Sound Reading
you will learn how to break free from patching together reading lessons
and learn how to grow a confident reader. 
If you like this post, you should visit:
Letter A Craft: Alligator Paper Plate
Apple picking, apple pancakes -short a sound
Best Paper Airplane to Teach Letter A
Chomping Clothespin Alligator Craft
Teaching the Short Aa Letter Sound
Fun Phonics -Letter A worksheets