Apple picking, apple pancakes -short a sound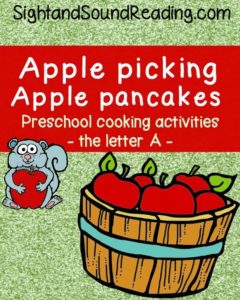 This week we have been working with my four year old son on learning the short a sound.  You might remember Mrs. Karle working with my daughter on learning the short a sound.  So, this week we have had a lot of fun being alligators and saying the short a sound.  We also took the lesson to the apple orchards to practice making the short a sound.  Then, we came home and practiced more by making apple pancakes!
Mrs. Karle wants to make sure that you know that when teaching a child the vowel sounds that you start first by teaching the short a sound.  You need to really practice making this short a sound, and practice having your child hear the short a sound. Only when you know your child knows the short a sound do you then move on to teaching another vowel sound.  You need to make sure your child understand and hears the short a sound before introducing any other vowel sound.
Anyway, we went apple picking and while we were picking apples we had  a lot of fun AAAAAAing at each other.  My four year old boy LOVES screaming at the top of his lungs to scare you with his loudest AAAAAAAAA.    I am sure the apple orchard loved having us around – 5 screaming children AAAAAA!   Here is a picture of event the littlest one getting into the screaming!   AAAAAAAA!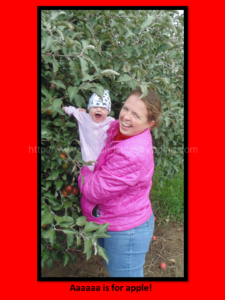 Here is the entire gang after our apple picking was finished.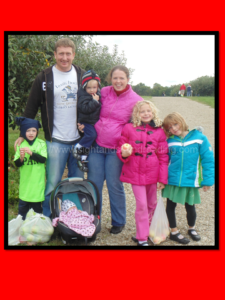 We had a terrific time at the orchard.  The next morning we made apple pancakes!  Here are the steps for making this awesome recipe.  Enjoy!
First, peel and cut 3 apples.  You want to cut the apple into think slices.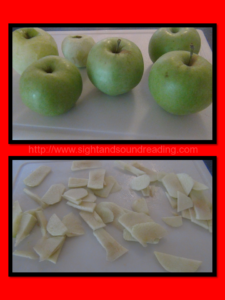 Next, coat the apple slices with sugar, and make your batter.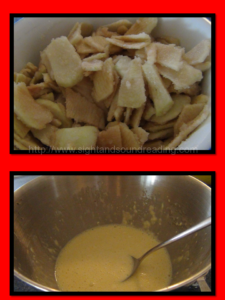 In a pie dish, melt butter and add brown sugar.  Then add the sugar coated apples to the pie dish.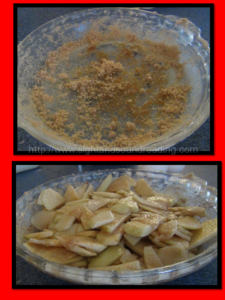 Next add the batter to your pie dish.  Bake at 400 degrees for 30 minutes.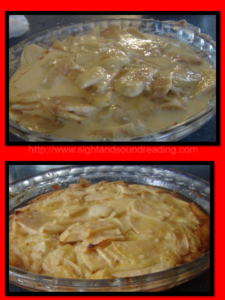 Flip the apple pancake over on a plate.  You are ready to eat!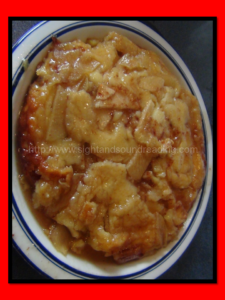 Apple Pancake Recipe:  
Yield: 1-3 servings (1 pie dish)
Time: about 40 minutes
Difficulty Level: Easy
Ingredients:
2 Tbl stick margarine or butter
2 large eggs
1/2 C all-purpose flour
1/2 C milk
1/4 tsp salt
1/4 cup brown sugar
1/2 cup sugar
1 tsp ground cinnamon
3 C thinly sliced peeled baking apple (1 medium)
Directions:
Heat oven ro 400 deg. Melt margarine in pie plate, 9×1 1/4 inches, in oven; brush margarine on side of pie plate.
Sprinkle brown sugar and cinnamon evenly over melted margarine in pie plate. Coat apple slices with sugar and then arrange apple slices over sugar.
Beat eggs slightly in medium bowl with wire whisk or hand beater. Beat in flour, milk and salt, until just mixed (do not overbeat). Pour into pie plate
Bake 30 to 35 minutes. Immediately loosen edge of pancake and turn upside down onto heatproof serving plate.
Would you like Free Letter A beginning sound worksheets to go along with your craft? Enter your name/email for free Letter A beginning sound worksheets to help you teach the letter A! If you have any trouble getting the freebie, please email me at [email protected]
How to Grow a Confident Reader
Beginning Letter A Sound Worksheets
1. Enter you email on this form to get your free download
2. Get tips to help you grow a confident new or struggling reader
When you join Mrs. Karle's Sight and Sound Reading
you will learn how to break free from patching together reading lessons
and learn how to grow a confident reader. 
If you like this post, you should visit:
Letter A Craft: Alligator Paper Plate
Best Paper Airplane to Teach Letter A
Chomping Clothespin Alligator Craft
Teaching the Short Aa Letter Sound
Fun Phonics -Letter A worksheets