90+ Letter Recognition Worksheets and activities to teach the letters
There are so many fun ways that you can teach letter recognition and beginning sounds.  Today we will explore not only Letter Recognition Worksheets, but we will also explore a few different activities and ways that you can teach letter recognition.   Letter Recognition worksheets are great for reinforcing skills and testing knowledge but it is also fun to have a few other "hands-on" ways to teach letter recognition -like crafts and books for each letter.
First -here is your "cheat sheet" – A big list of crafts, books and letter recognition worksheets for each letter (and even some digraphs).  Keep scrolling because there are more ideas below!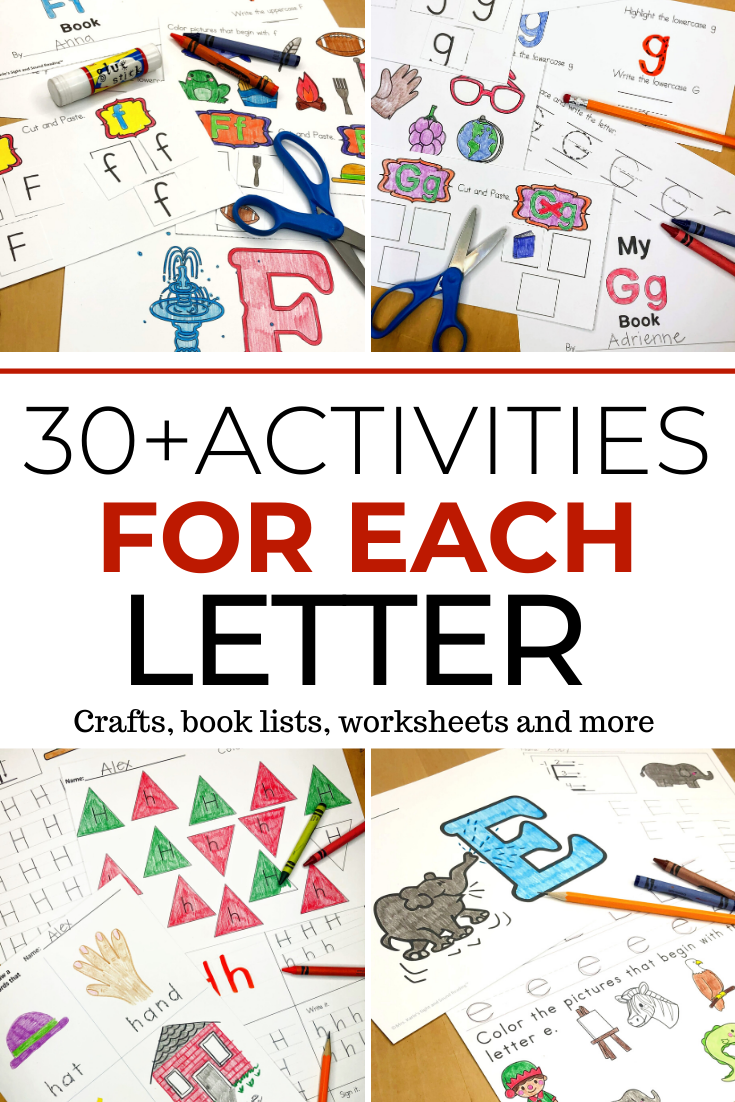 Book List for Each Letter
Worksheets for Each Letter
Ideas to to teach letter recognition!
Invest in a letter rug
If you are teaching little readers, letter rugs are great for teaching letter recognition. Have each student sit on a different letter each week, or play a game where students have to find the letters you call out. Letter rugs are a great way to teach letter recognition without students realizing it.  (Surprisingly, too -letter rugs are more affordable than you would think!)
 Letter Tubs
One of my favorite ways of teaching letter recognition along with sounds is letter tubs. You can either find these on Amazon or you can make your own. Simply label a tub with a letter and place items in them that start with that letter. You can have kids dump two or three buckets at a time and sort the items out into the right tub.
 Make Letter Animals or Letterman
You can make things like an alligator from the letter "A" I also have found the kids like making letters into people such as Mrs. Nosey Nancy N. They have fun with these and can create whatever person they want with their letter.  We have a craft for every letter of the alphabet  (see list above for crafts for each letter)
 Teach Through Stories
Kids love stories and what better way to teach letter recognition than through a story? Point out the letter you have been working for the week. Let kids find the letter you have been learning. Ask letter questions as you read.  The book list above will help you in picking out stories for each letter.
Have a Letter Scavenger Hunt
Search around the room to find letters that start with the words you are saying. Have students search for as many letters as they can find and bring them to the letter carpet. You can also play ISpy to scout the room for letters. It is also fun to hang up letters outside and have students find them and identify them.
  Create Life Size Letters
Sometimes, littles just need to get their wiggles out. Show them how to make a letter using their whole bodies. The, break them into groups to create letters on their own. Letters with straight lines are easier to make with your body.
 Gel Bags
Fill Ziploc bags about ¼ if the way full with hairstyling gel. Carefully let the air out of the bag as you zip it up. Red, blue, or bright colors work best. When finished, you should be able to lay the gel bag flat and make shapes, letters, and designs in the gel. I love to use these fun gel bags as a way to have students write the letters I call out. Sometimes, we even play a kind of BINGO like who can draw letter "T" first!
I SPY: A fun game to play in the classroom, on the drive to school, or anywhere is ISPY. You can let little readers know you spy something red that starts with the letter "A." If they guess apple, the next little reader can pick something to have someone look for.
Beginning Sound BINGO: BINGO is my go to game for everything because it is so versatile. Kids love shouting out BINGO and it's a great way to help them learn beginning sounds.
Play Some Music: Kids love music and there are tons of fun Youtube videos for beginning sounds. Some of my favorite beginning sound songs are from Jack Hartmann.
Sand Fun: Get out the sandbox or use pencil boxes with sand. Put different objects in the sand for kids to find. Label some tupperware with letters and have kids place their items in the labeled tub that corresponds to its beginning sound.
Around the World: Play around the world with letters. As you pass the ball around the circle of kids, they must come up with a word that has the sound of the next letter of the alphabet. For instance, if you are on letter C and pass the ball, the next student must come up with a word that begins with the letter D.
Monster Mansion:: Kids love technology especially when they don't realize they are learning. Monster Mansion on ABCYa is a fun alphabet matching game that teaches kids beginning sounds.
What Letter Do I Start With: This fast paced game is perfect for small group or guided reading practice. It is fast paced, so kids learn their letter sounds quickly as they race to cover all their pictures.
We are Going on a Treasure Hunt: Take a walk outside to go on a letter sound treasure hunt. Line everyone up and sing we are going on a treasure hunt to see what we can find…we are looking for something that starts with the letter "t.
"Picture Walk: Do a picture walk through a book you are going to read. Point out different pictures and ask little readers to tell you what sound they hear at the beginning of that word. This is also a great way toOkay!  Here is the massive table of Letter Recognition fun again!
Write it in...salt, sand, shaving cream - practice writing letters in all sorts of tactile things!